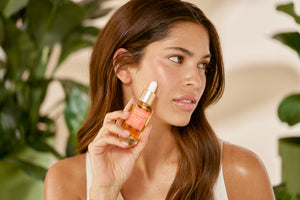 "Best Face Oils." -VANITY FAIR
Melt away makeup & impurities with this luxe, gentle cleanser.
"The Best Face Oils to Use Now" - T Magazine
This luxe, lightweight blend of botanicals and clinical actives leaves skin hydrated, plump, and luminous.
SHOP NOW
Glowing Skin in a Bottle
Our concentrated treatment Essence firms, brightens, and softens skin texture, while replenishing the moisture barrier.
SHOP NOW
Hydrate, Plump & Protect
Pair large text with an image to tell a story, explain a detail about your product, or describe a new promotion.
LEARN MORE
As Seen In
Skincare Powered by Nature + Science
• Results-Driven, Proven Ingredients
• Potent Botanicals Indigeneous to Latin America + Clinically Proven Actives
• Only the Highest Levels of Nutrient-Dense Ingredients, with Zero Empty Fillers
• 100% Clean, Vegan, and Cruelty-Free
• Sustainably Packaged
Our Story
Our award-winning formulas combine Latin American botanicals with clinical actives. We believe that beauty is a pleasure, not a chore. That everyone should enjoy their unique beauty to the fullest. And that it all begins with healthy, hydrated, bare-faced beautiful skin.
TELL ME MORE
This oil is wonderful! It's super moisturizing and absorbs really beautifully into the skin. It gives my face a glow all day long plus it also smells amazing.

Samantha W.
I read the suggestion of mixing this with sunscreen, and I'm so delighted. I apply sunscreen twice a day, and now add a drop of oil. It moisturizes and feels wonderful and adds a glow all day.

Edie L.
I have been using the hydrating glow oil consistently and I've seen a big change in my skin. It's definitely dewier, and my tinted moisturizer just glides on.

Marie Antoinette C.